HI .
This week was sad and depressing cus I got my period and i got a major breakout on my forehead (and school always sucks anyway)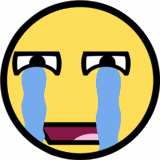 OTOKE????!!
1
but i still love my face so i camwhore, y'know..
idk what poses to do so i copied heather.
I haven't posed for so long.. I need to do more poses these days :(
So idk where to start blogging from since i have like 300 untouched pictures bwahahahahah...
So let's cut it into half and use just half of it to share my day..s...!
i'll just talk random crap and hope you can understand me..
firstly i wanna share my two favourite tops

oh great, you can't see it.
but you can see the word LOI-STAR can you?
well maybe you see a bunch of symbols.
THAT'S LOI-STAR IN WEBDINGS!
and yes my surname is loi, hence imma loi-star.
and sadly you can't see what writes below mah big loi-star?
it says
THE PORRIDGE BROTHER.
epicepicepic



mhmmm we got our family swagguhhhhhh (my sister's shirt has the word loi-star and her name too - chicken mud (jeannie - ji ni LOL)
anyway, the top was like 2 bucks each from cotton on and it was for my parents' 25th anniversary, all 4 of us have a shirt with this.. sign thingo on it bwahahahah~!
p.s: we were in a park
and we exercised.
HARDCORE
okok anyway shall i move on to the other shirt i really likeee and stop going out of topic now
TADAA THIS ONEE!
and why, simply because i love ocf~ o///o
i caught three other peeps wearing it in my cam on that day too yo.
so many people love ocf

and in case you don't know what it means, it is overseas christian fellowship!
bwheheheheheheh its an organisation and - OKAY I'LL TALK ABOUT IT NEXT TIME.
let's go back to how my week(though i only depict my weekends OTL) has been.
I got period which sucks and got my forehead crazy

But that doesn't stop me from taking photos kekeke~
And then I got a letter from Dianne this week!
LOL WHOO I RIDE A KANGAROO IN MAH BACKYARD
Then there's OCF~ I obv didn't take pics of the sermon but it was good
random moments ftw!
LAST BUT NOT LEAST, MY GRANDPA, UNCLE AND AUNTIE CAME TO PERTH THIS MORNING!

heh hi
gong gong~
they came at like 5am dude i was still sleeping T_T
croissants for brekkie! along with sashimi and pho and other random stuff in the subi market LOL
nyahahahahaha
mini melts for teeaaaa??
and froyo LOL but nothing beats yami and glacious yoghurt -.-
i made a new friend by going "MINE MINE MINE MINE MINE MINE"
and i got a new watchhhhh!
25 bucks fml not worth the price T_T
but y u sho pretty, darlin watch?
my auntie got a similar bracelet, keke.
AND KAILIS FOR LUNCH! -tummyisdying-
my gramps records everything with his camcorder that he had since like.. i was a kid OTL
the adults all had beer. beh. weh.
i had fanta. that's so much better.
anyway SO DON'T GET HUNGRY NOW BUT
U LIEK?
too bad you can't have it.
dinner was korean bleh the usual boring QQQ
And later on my other cuzzies and auntie and uncle will be flying over too.
u jeluz?
How blessed I am to have my family with meeeee!
well i am so bored imma go now kbye
#PrayforJapan :)